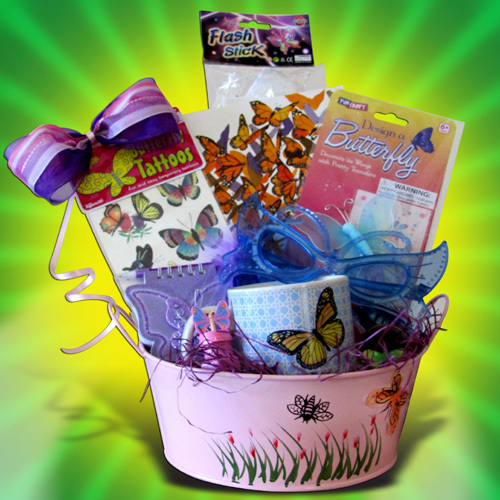 GiftBasket4kids Offers an Exciting Opportunity to Design Get Well Gift Baskets
Users Can Choose To Customize Their Basket with Gift Items of Their Choice
Finding appropriate get well gift baskets for a young kid is not very easy. GiftBasket4kids.com, a website dedicated to amazing gift basket ideas and affordable gift items, allows its user to create perfect get well gift baskets by designing them from the very start. The website is already gaining immense popularity for providing top quality licensed gift items and novelties at affordable rates.

The spokesperson for the giftbasket4kids.com explained the unique 'design you gift basket' service, "On our website, you can find some of the most amazing ready-made gift basket for kids who are suffering or recovering from ill-health. However, we also understand that many of our customers might have their own gift basket ideas. So, we allow them to choose not just the basket but also each and every item according to their will."

The website offers a wide range of gift items to choose from. The items are brilliantly categorized according to the theme, character and occasions. While many people prefer educational gifts and stationery items, there are also plenty of gifts solely for fun and entertainment purposes. With the unique customization option, website users can create get well gift baskets ideal and appropriate according to the age and liking of the kid.

The process of designing and creating get well gift baskets is extremely simple and straightforward. In just three steps, users are able to create and order a gift basket that fits their budget and requirement. "We don't want to complicate the process because we want more people to benefit from this opportunity. It is simple. You can choose a basket from our website and then select gift items from the wide range of products available on our website. Finally, check out using our secure payment options."

However, this is not the only freedom of choice and selection the website offers to its customer. The spokesperson also highlighted another unique service offered by GiftBasket4kids.com. The website invites and encourages its users to request a particular theme that is not yet available on the website. This will allow users to enjoy customized and personalized get well gift baskets.

The website, however, covers almost all of the most popular themes for young kids and teenagers. From Spiderman to Tinkerbelle and from SpongeBob to Dora, the website graciously covers every gender and age. In order to have a look at the complete get well gift baskets available, please visit the website @ www.GiftBasket4kids.com

Giftbasket4kids.com is an online retailer and wholesaler of gifts targeted towards kids and teens. The website offers a wide variety of licensed gifts and novelties for every occasion including birthdays, Christmas, holidays and many others. The website specializes in presenting a unique variety of gifts and baskets to help people find interesting get well gift baskets.